Local Amenities
Welcome to Sandwich Marina, The Gateway to Cape Cod and points north.  As part of your stay at our marina, we want to provide you with some of our favorite things to do in the in an around the town of Sandwich (oldest town on Cape Cod) and close to the Marina area, including restaurants, pubs, and other local attractions. Please let us know if you have any questions about any activities.  We are here to assist you in making the most of your stay with us should you want to get out and explore.
There are many outstanding restaurants, pubs, coffee shops, shopping opportunities and a myriad of stores within walking distance from the marina and actually too many to list. Merchant Square houses a myriad of additional shops and restaurants, including the local post office and is walking distance.  Here is a variety of amenities that are within walking distance to the marina for your convenience that should meet several of your needs.
Local Attractions and Activities
There are many great things to see and do while you are in port.  Below is a few local suggestions.
Sandwich Glass Museum, https://www.sandwichglassmuseum.org , 129 Main Street, Sandwich, MA, 20 minute walk, 1.5 miles
Heritage Plantation, http://heritagemuseumsandgardens.org/ 67 Grove Street
Sandwich, MA,
Daniel Webster Inn and restaurant, https://www.danlwebsterinn.com/?gclid=CPyG1PvMutICFYSIswoduVoPvw
Belfry Inn and restaurant, http://www.belfryinn.com/
Sandwich Boardwalk
Historic Downtown Sandwich
Cape Cod Canal Visitor Center operated by the U.S. Army Corps of Engineers
Transportation
Helpful Phone Numbers
Harbormaster 508-833-0808
U.S. Coast Guard 508-888-0020
Army Corps of Engineers 508-759-4431
Cape Cod Canal Recreation Hotline for Tide Information 508-759-5991
U.S. Customs 1-800-973-2867
Police Department 911 or 508-888-3343
Fire Department 911 or 508-888-0525
Sandwich Taxi Service 508-888-7174
Bourne Taxi 508-759-4004
Enterprise Car Rental 508-759-2299
Cape Cod Canal Cruises 508-295-3883
Heritage Museums & Gardens 508-888-3300
Sandwich Chamber of Commerce 508-833-9755
Stoneman Outpatient Center No appointment needed 774-338-5000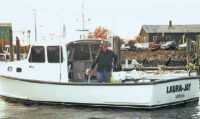 Laura Jay "Laura Jay" – Captain Don Cianciolo
Bass and Blues. 4, 6 and 8 hour trips. 6 person maximum. 31′ boat. All tackle provided. Fish cleaned and bagged. Families welcome. Professional Mate.
508-888-4033 · 508-566-3830
www.laurajay.com
Captain Joe P Charters – Captain Joe Penta
Captain Joe P Charters will take you out for a relaxing day of fishing or help an experienced fisherman hook their coveted trophy sized striped bass.  We're the perfect charter for families, groups of six, private tours or special occasions.  Whatever your pleasure, we'll be happy to make your day on the water a memorable one.  Half and full day charters available on spacious 38 foot H&H Osmond custom down east.
617-756-8666
www.captainjoepcharters.com
Jackie Lu Charters – Captain Barry Bader
Jackie Lu Charters targets striped bass, blue fish and will run black seabass trips upon request. We're ideal for 2-4 person charters, and will also run customized trips (Barnstable sand bar, Sandy Neck beach & whale watches off P-Town ) Captain B has 10 years of experience navigating Cape Cod waters and we're conveniently located in the Sandwich Marina. We're a family friendly charter focused on providing a fun filled day on the water!
508-277-6430
jackielucharter.com
We are certain you will enjoy your time with us, and please do not hesitate to contact our friendly office staff for any additional information to make your visit to both Sandwich marina and the Town of Sandwich enjoyable, be safe!
Sincerely
The Crew at Sandwich Marina
Town of Sandwich
Office: 508-833-0808
Fax: 508-833-8026